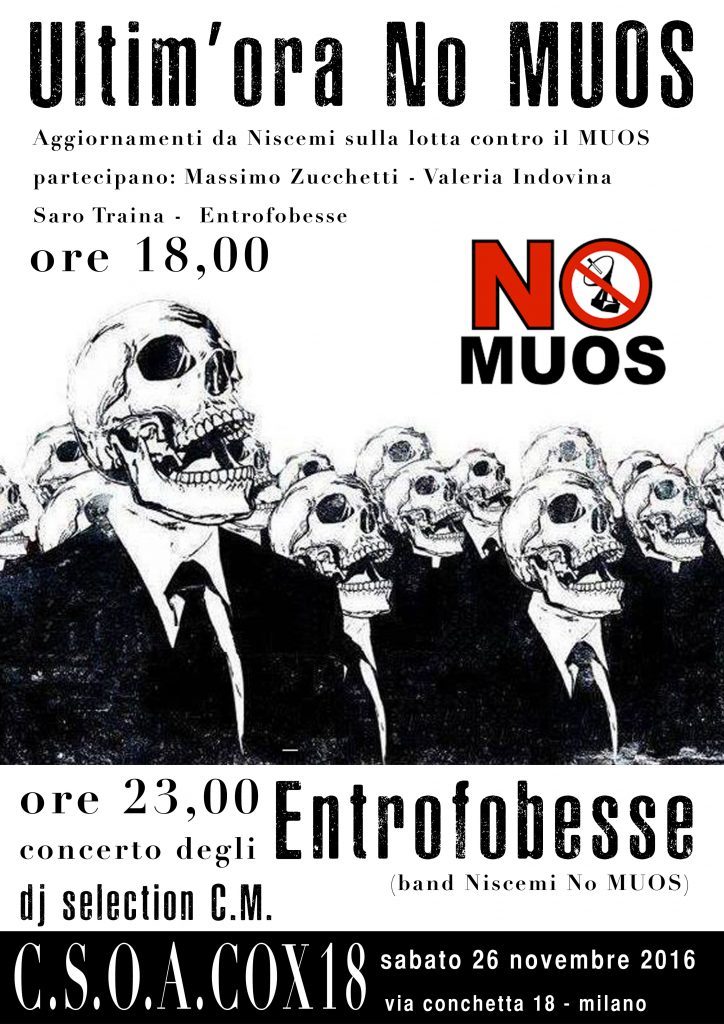 dalle ore 18,00 alle ore 20,00
Aggiornamenti  da Niscemi sulla lotta contro il MUOS partecipano:
Valeria Indovina – Saro Traina – Entrofobesse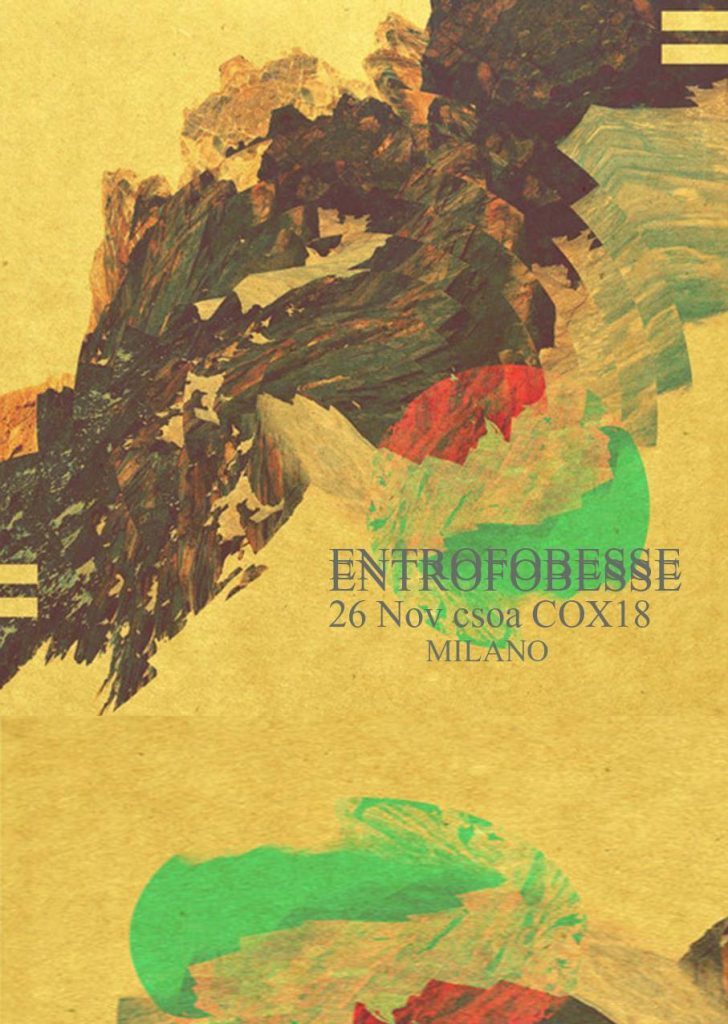 dalle ore 23,00
concerto degli Entrofobesse (band Niscemi No MUOS) + Dj Selection C.M.
https://facebook.com/Entrofobesse/
Gli Entrofobesse provengono da Niscemi (CL). Nel 2009 esce il loro primo album "Behind My Spike" per la Wild Love Records. Il disco, registrato da Sacha Tilotta e masterizzato da Bob Weston, viene pubblicato solo in vinile. Attraverso questo lavoro dalle forti connotazioni noise-punk, la band cerca di esprimere la propria rabbia nei confronti di una società schiacciata dalle maschere del conformismo e della menzogna e mostra una forte volontà di cambiare le cose con le unghia e con i denti. Tutta questa energia viene sprigionata nei concerti che contestualmente la band esegue in Italia e nel resto d'Europa. Sempre nel 2009 partecipano alla compilation "Clowns And Jugglers – A Tribute To Syd Barrett" pubblicata dalla Octopus Records dove sono anche presenti artisti della scena indipendente italiana quali Moltheni, Jennifer Gentle, Filippo Gatti, Super Elastic Bubble Plastic e altri ancora. Dopo un periodo di pausa ed un cambio alla line-up, nel 2015 la band registra con Carlo Natoli il nuovo disco presso il Phantasma Studio Recording & Production di Ragusa. L'album masterizzato da Lorenzo Stecconi e intitolato "Sounds Of A Past Generation" è un'ode alla bellezza della natura ma anche una denuncia contro tutte quelle forze che tutti i giorni si adoperano per deturpare sia a livello ambientale che sociale il nostro pianeta. il disco uscirà 17 giugno 2016 per Seltz/Viceversa e sarà distribuito da Audioglobe. La formazione attuale è composta da Tano Di Rocco, Giuseppe Randazzo, Massimiliano Di Rocco e Massimo Caruso.
Sounds Of A Past Generation
Suoni di una generazione passata è il concetto primario attorno al quale ruota tutto quello che c'è di nuovo negli Entrofobesse. Un ritorno al passato verso modelli di convivenza più genuini, il dissenso intransigente verso i sistemi che mettono in commercio strutture mentali preconfezionate, il malessere di vivere in un mondo dove è crescente la decadenza eco-umana. "Sounds Of A Past Generation" (Viceversa, Seltz, Audioglobe, 2016) registrato da Carlo Natoli e masterizzato da Lorenzo Stecconi è il nuovo disco della band a sette anni di distanza dal precedente "Behind My Spike" (Wild Love, 2009). Psichedelia, space rock, sempre noise, super fuzz, echi 70's e tanto tanto sudore contraddistinguono le tracce dell'album e mostrano gli Entrofobesse come un essere in continua mutazione alla ricerca di una sacralità ideale realizzabile nella mente solo attraverso la musica. Sono ospiti nel disco anche Carlo Natoli e il bluesman ibleo Stefano Meli. La copertina dell'album mostra un'opera del pittore Paolo Stefanelli intitolata "Agonismo dell'assemblaggio umano n 1".