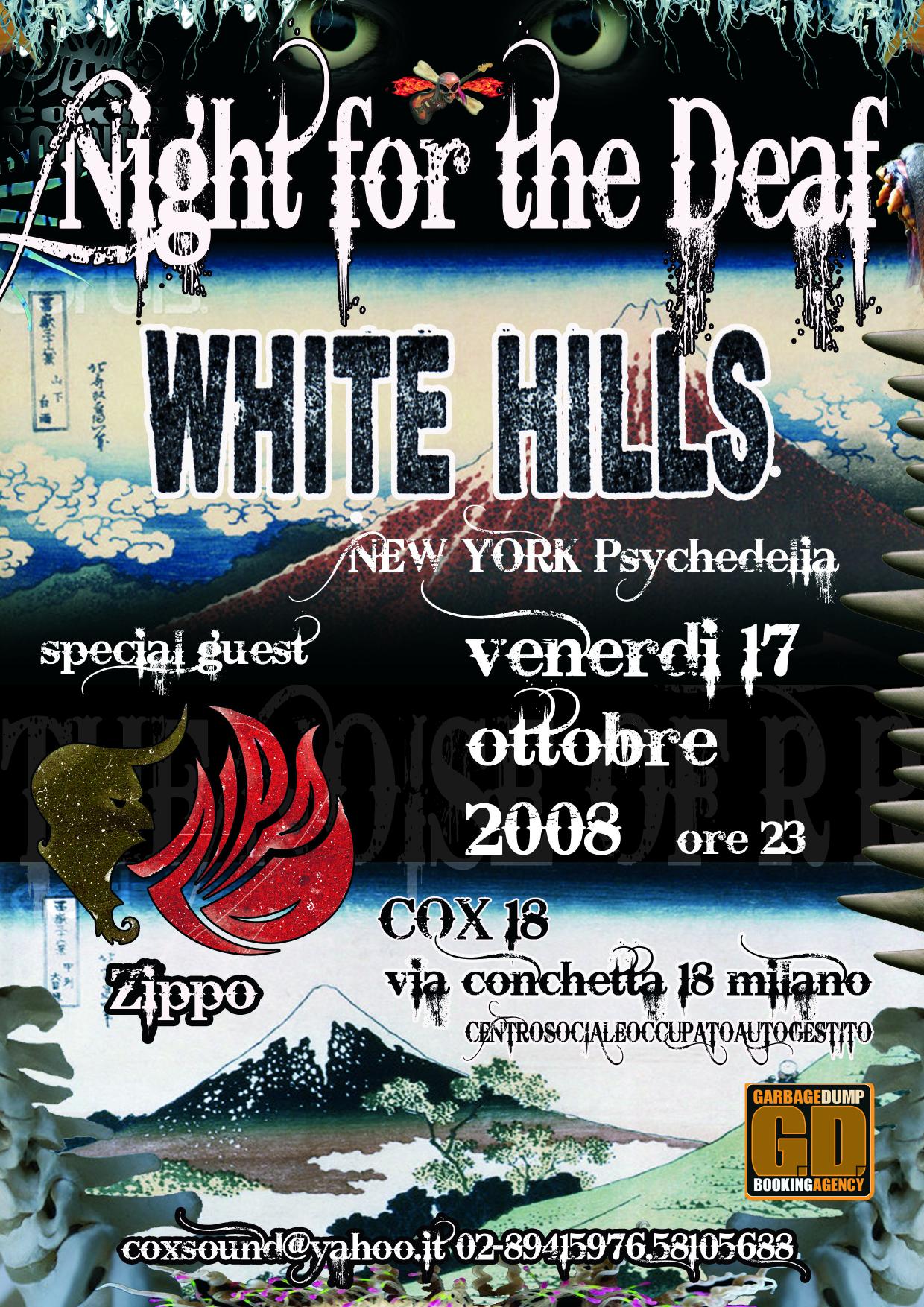 17 Ottobre 2008
Night Fighters presenta: WHITE HILLS + ZIPPO
Dal sempre fervido sottosuolo newyorkese emergono i WHITE HILLS, torrente lavico psychofuzz-rock dilatato in sideralità acide che vanno dai Loop agli Hawkwind, passando per Neu! e The Heads, in un alternarsi di liquidi momenti di quiete ed eruzioni torrenziali, grazie ad un groove autogenerante di pedali, distorsori e droniche linee di basso.
Un'arte portata ai massimi livelli, da degni eredi di Sonic Youth e Oneida, ma che i WHITE HILLS espandono ulteriormente, preferendo una nobile sublimazione space rock, che guarda fisso negli occhi l'incubo analogico senza timori di sorta. Sono stati fortemente voluti da Julian Cope per il suo tour nel Regno Unito, che ha anche curato il remixaggio del loro debut album.
L'ultimo tumultuoso "Heads On Fire" rappresenta quanto di meglio possa offrire il panorama rock internazionale, al di fuori di ogni regola di mercato. Una band che innalza il vortice dell'attuale psichedelia heavy alle soglie dei massimi picchi di intensità!!!
Apriranno gli ZIPPO di Pescara, impegnati nella promozione del nuovissimo album "The Road To Knowledge" in uscita ad Ottobre per Subsound Records. L'album è un concept ispirato al libro "Gli Insegnameti Di Don Juan" di Carlos Castaneda!!!
Official Website: www.zippoband.it
Myspace: www.myspace.com/zippomusic