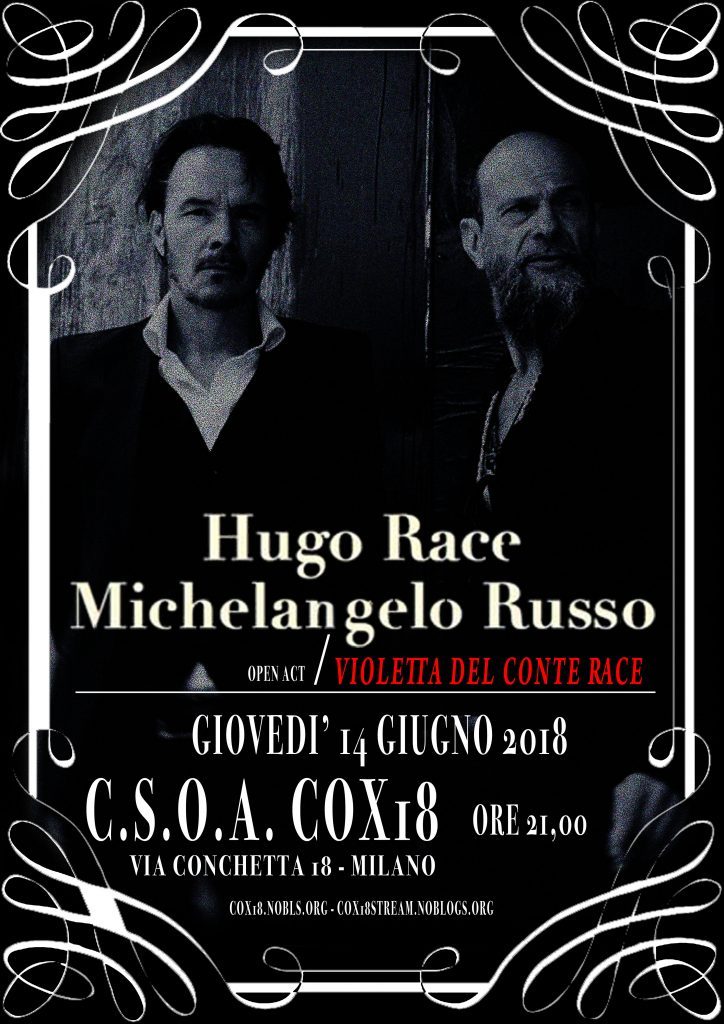 14 Giugno 2018
HUGO RACE & MICHELANGELO RUSSO + Violetta DelConte-Race
 E' un musicista con sede a Melbourne, in Australia. Violetta ha iniziato a scrivere

canzoni alla chitarra e al pianoforte e si esibisce da solo all'età di 16 anni.

Le sue canzoni sono spesso basate su riff o accordi ripetitivi, influenzati

liricamente per esperienza personale, arte visiva e scenari immaginari.

Oltre ad essere una cantautrice solista, suona nella rock band

Primo!

il cui primo album sarà pubblicato in Australia e in Europa

attraverso l'etichetta londinese Upset The Rhythm il 13 luglio 2018.
HUGO RACE & MICHELANGELO RUSSO
Un disco di blues, nel nome di John Lee Hooker a un secolo dalla sua nascita, per parlare non solo di blues, ma del dolore, dell'anima nera, dei cupi anfratti dell'esistere, dei demoni che ognuno si porta dentro. Un disco che scende spietato e senza alcuna concessione verso l'essenza stessa della musica del diavolo. I due musicisti australiani dilatano i tempi, con le eccezioni di Love Blues e The World Today, i brani durano tutti fra i 6 e i nove minuti, come se da ogni canzone volessero estrarre ogni stilla di sangue e sudore, di pathos e sentimento. Per questo non cedono ad alcun virtuosismo, alcun autocompiacimento, Hugo Race e Michelangelo Russo hanno realizzato un disco come se stessero officiando una cerimonia spirituale nella quale la celebrazione e l'atto d'amore verso il blues e uno dei suoi massimi esponenti diventano un viaggio verso le radici più profonde della musica del Delta, del popolo che l'ha creata, dei sentimenti che la attraversano, della vita vissuta che pulsa in ogni nota. C'è un rispetto oseremmo dire religioso, sacrale nel modo in cui si avvicinano alla musica, alla figura, alla vita di Hooker, un rispetto che traspare sin dall'inizio, nei primi due minuti strumentali della meravigliosa Hobo Blues, un'arcana solennità, una liturgia proveniente da misteriose lontananze venata di inquietudine.
Una strumentazione essenziale, chitarra, stompbox, armonica, effetti elettronici, più la voce bastano per creare un universo sonoro di rara profondità e bellezza, una bellezza struggente e perfino drammatica, ma da cui è difficile staccarsi e impossibile non restarne affascinati e incantati. L'armonica ha il suono delle ferite e delle lacerazioni, la stompbox batte come i palpiti di un cuore in tumulto, l'elettronica stravolge i suoni, li proietta in una dimensione atemporale, carica di ansia e mistero, ogni nota della chitarra rimane nell'aria vibrante ed evocativa, il suo suono affonda nelle acque del Mississippi e nella polvere del Sahara, là dove tutto è nato. Della voce di Hugo Race abbiamo più volte parlato elogiandone la grande e profonda forza espressiva, ebbene stavolta il suo talking blues è così evocativo, ipnotico, intenso da lasciare senza fiato, ogni parola sembra rimanere a volteggiare nell'aria prima di penetrare dentro la nostra anima e scuoterla sin nel profondo.
Delle otto straordinarie canzoni di questo "John Lee Hooker's World Today" due almeno, a nostro parere,  meritano di essere citate: la lancinante, sferragliante Hobo Blues, autentica epopea del nomadismo e della frontiera, della solitudine, della nostalgia, la stompbox batte il tempo monotono di un treno a vapore, l'armonica evoca il fischio dello stesso treno che lacera il silenzio della notte, i suoni trattati da Michelangelo Russo raggiungono nel finale l'aspra durezza dell'industrial; la dolorosa Decoration Day, qui la voce di Race si fa più scura che mai, un recitativo intriso di attonita sofferenza, su tutto il brano volteggiano le ali scure della crudele e implacabile falciatrice, l'atmosfera si fa più intima e raccolta, l'armonica iniziale langue sfinita, gli effetti elettronici e le note gelide della chitarra sono permeate del mistero scandaloso della morte. Se non siamo di fronte a un capolavoro, ci siamo almeno molto vicini.