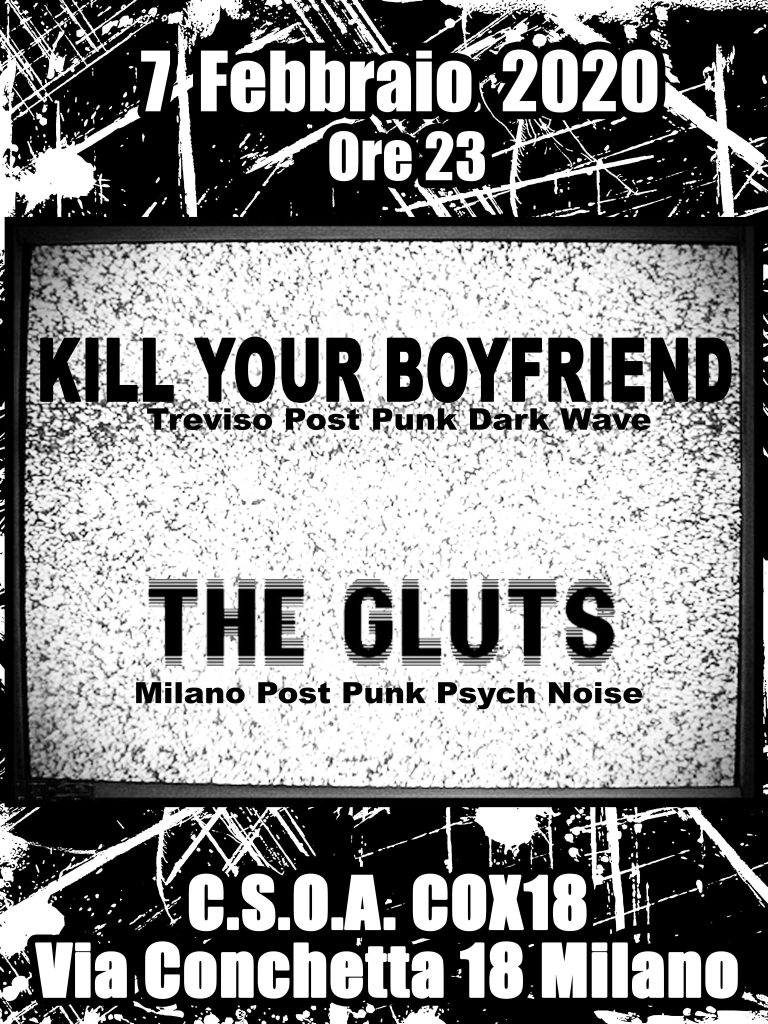 07 Febbraio 2020
Live on stage: Kill Your Boyfriend & The Gluts
Dj Set: The Persuaders
Kill Your Boyfriend
Kill Your Boyfriend è un duo psych / post-punk / dark wave / shoegaze formato nel 2011 . Sono Matteo Scarpa alla chitarra/ voce e Antonio Angeli alla batteria. Hanno pubblicato 2 album su Shyrec Records , oltre a diversi singoli ed EP, tra cui uno split con New Candys nel 2015. Si sono esibiti in tutta Europa, aprendo per artisti del calibro di Preoccupations, The KVB, ZU , Zola Jesus, Civil Civic e molti altri artisti. A Novembre è uscito il nuovo singolo "Elizabeth" per la londinese Depths Records che precede il nuovo album che pubblicheranno nel 2020.
The Gluts
I "The Gluts" nascono nel 2013 quando i fratelli Marco e Nicolò Campana, rispettivamente alla chitarra e alla voce, incontrano la bassista Claudia Cesana. Il primo singolo "Tears of Ink" su 7" viene pubblicato dalla "Punchcake Production" nello stesso anno, mentre il loro primo album, intitolato "Warsaw" uscirà per conto dell'etichetta tedesca Nasoni Records nel 2014.
Passati due anni con numerosi concerti e festival in varie regioni d'Italia alle proprie spalle, il 2016 vede l'arrivo di Dario Bassi alla batteria.
I suoni e le strutture dei brani cambiano e si consolidano, confluendo nel nuovo album "Estasi", che vede luce nel 2017; pubblicato dalla prestigiosa etichetta indipendente londinese Fuzz Club Records, la band può finalmente ampliare i propri orizzonti all'estero, collezionando così una serie di date tra Portogallo, Svizzera, Inghilterra, Francia, Belgio e Olanda.
Nel corso del primo tour promozionale di "Estasi", approdati a Londra, registrano una Fuzz Club Live Session, pubblicata poi in vinile a Novembre 2018.
Acclamati dal pubblico e dalla stampa del settore al primo Fuzz Club Festival, tenutosi all'Effenaar di Eindhoven, i The Gluts hanno deciso di continuare ad investire i propri sforzi sia all'interno che al di fuori dei confini nazionali così da poter mantenere viva l'attenzione prima dell'uscita del loro terzo album di inediti, prevista nella primavera del 2019, sempre per conto della Fuzz Club Records.
The Persuaders Dj set