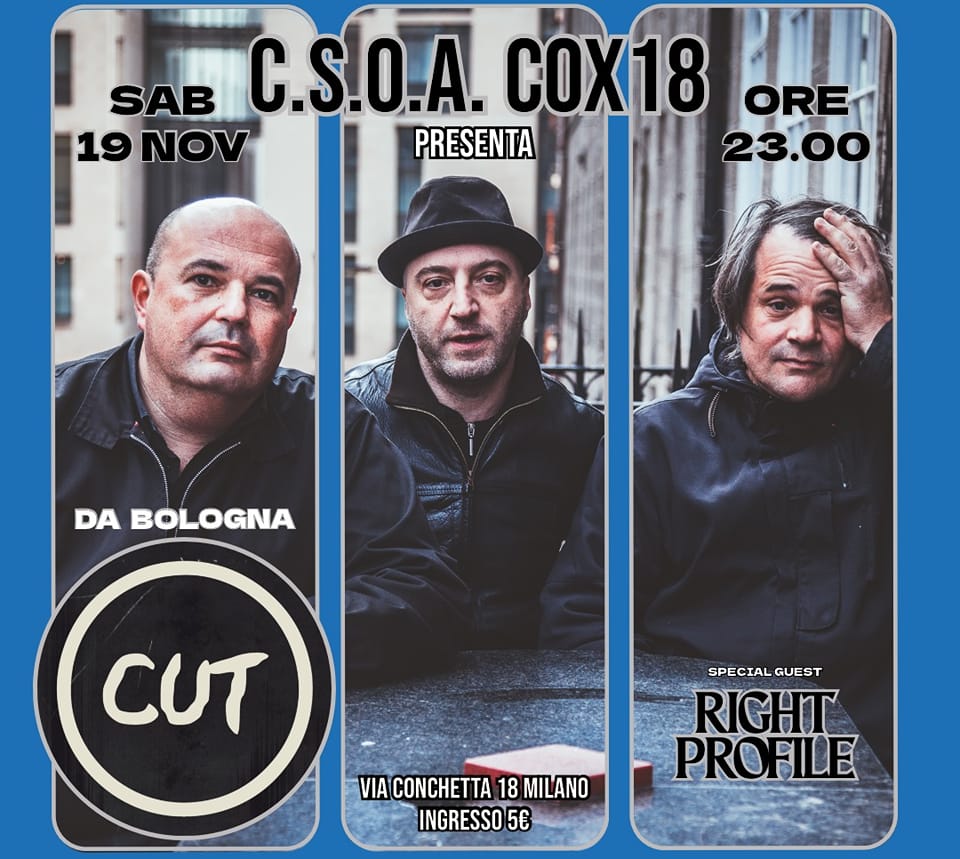 19 Novembre 2022 – ore 22,00
Concerto: CUT + Right Profile + Dj Fossile

Right Profile
I Right Profile si formano a Milano nel novembre 2021, dall'incontro musicale e culturale di Raffaele Bocchetti (Stella Diana, In Her Eye, Kozminski), Walter Montagna (the Real Swinger, the Brainers, the Pidgeons) e Matteo Lanzi (valvoletta, Belushi Brothers).
La band esordisce a marzo 2022 allo Psychodelice Milano Winter Fest e registra a maggio 2022, presso il Real Sound Studio di Milano, i primi 2 brani, "Kiss" e "Sunny House", ascoltabili su BandCamp.
Le numerose esperienze in ambito principalmente indie/punk/r'n'r (contesto vissuto più come common ground attitudinale, che come ghetto d'inaccettabile ortodossia) sono accompagnate da un vissuto, musicale e non, che tinge di malinconia e disagio le concise composizioni, e rappresentano un personale viaggio all'interno del subconscio metropolitano.
I Right Profile amano indifferentemente Hüsker Dü e The Police, Thin Lizzy e The War on Drugs, Jets to Brazil e Jon Spencer Blues Explosion. Si potrebbe anche affermare che suonano post punk o indie USA anni 90: la cosa lascerebbe comunque indifferente il gruppo, motivato esclusivamente a condurre una ricerca tutta propria verso la conquista di una musica che essi stessi, per primi,
gradirebbero ascoltare.
La scelta del nome è legata al grande "classico minore" dei Clash, ma rappresenta anche una riflessione sull'ambiguità delle immagini nella comunicazione contemporanea, ben consapevoli che nulla è come sembra, eppure tutto è come appare.
CUT
I CUT sono una rock band nata nel 1996 a Bologna.
La loro attività è stata la scintilla che ha contribuito alla nascita e allo sviluppo di "GAMMA POP", etichetta che ha posto le basi per la rinascita della scena indipendente italiana, con le uscite di Giardini Di Mirò, Julie's Haircut, One Dimensional Man e molti altri.
Il suono dei CUT è stato descritto in vari modi ma forse il più azzeccato è stato coniato dalla webzine UK Pennyblack Music: "John Lee Hooker stuck in a postpunk straitjacket" ovvero "John Lee Hooker stretto nella camicia di forza del postpunk" (http://www.pennyblackmusic.co.uk)
La loro discografia conta sette album in studio, un LP registrato live in UK e un E.P. per la stessa Gamma Pop e per altre istituzioni della scena musicale italiana come Homesleep, Riff Records, Go Down!, Area Pirata e Dischi Bervisti.