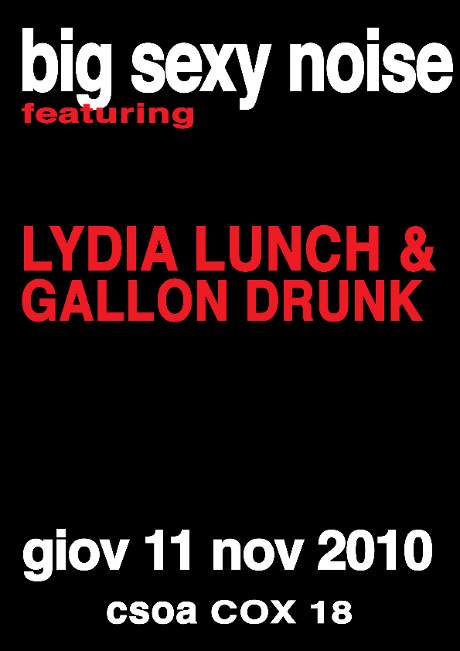 11 Novembre 2010
BIG SEXY NOISE featuring:
LYDIA LUNCH & GALLON DRUNK + THE THREE BLIND MICE
LYDIA LUNCH & GALLON DRUNK
LYDIA LUNCH presenta live il nuovo disco "Big Sexy Noise" accompagnata da James Johnston (chitarra Gallon Drunk), Ian White (batteria Gallon Drunk) e Terry Edwards (sax/organo Gallon drunk /Tindersticks).
Ammirata o temuta dalla maggior parte della gente, Lydia Lunch è una proterva artista multimediale che ha viaggiato attraverso mille esperienze e collaborazioni sui generis, legando il proprio nome a quello dei vari Foetus, Die Haut, Lee Ranaldo, Rowland S. Howard, Thurston Moore e via discorrendo…
Pur mantenendo inalterata la sua tagliente vis polemica, la Lunch degli anni '90 è un qualcosa di estremamente diverso dal suo stesso archetipo, incarnato dai primitivi tentativi urlanti a bordo di gruppi come Teenage Jesus & The Jerks, Eight Eyed Spy e Beirut Slump nella mitica No New York dei primi anni '80.
Il set suona decisamente rock minimal-tenebroso, perlopiù imperniato sull'ultimo album in studio, anche se non mancano i rigurgiti di un certo passato splendidamente perverso e decadente, come ad esempio la pestilenziale versione di "Knives in the drain", pezzo tratto da quel mezzo monumento swing-noir-orchestrale che è "Queen of Siam".
Nella sua carriera solista di musicista Lunch collaborò con altre grandi personalità del rock alternativo, come J. G. Thirlwell, Kim Gordon, Thurston Moore, Nick Cave, Billy Ver Plank, Steven Severin, Robert Quine, Sadie Mae, Rowland S. Howard, Michael Gira, Einstürzende Neubauten, Sonic Youth, Die Haut e Black Sun Productions.
Inoltre recitò, scrisse e diressi diversi film underground, a volte collaborando con il regista e musicista Richard Kern. Più recentemente ha pubblicato dei dischi parlati, collaborando con altri musicisti underground, come Exene Cervenka, Henry Rollins, Don Bajema, Hubert Selby Jr. e Emilio Cubeiro.
Nel 2009 ha pubblicato l'eccellente album "Big Sexy Noise" (5 stelle per la rivista RollingStone), con un'omonimo "supergruppo" che vede schierati appunto i Gallon Drunk, band che ha più di un punto in comune con Lydia Lunch.
I Gallon Drunk sono una delle formazioni piu` creative e al tempo stesso assatanate della storia del rock britannico, attiva fin dai primi anni '90 e capitanata dal carismatico e tenebroso James Johnston, anche chitarrista dei Bad Seeds di Nick Cave.
The Three Blind Mice
The Three Blind Mice sono nati a Milano nel 2009.
La loro musica è un dramma notturno, dominato dal suono delle chitarre, a cui si mescolano atmosfere cinematografiche hardboiled e stranianti sonorità di frontiera. Sonorità che sono al contempo paludose e urbane, un mix urticante di chitarre corrosive, una seziona ritmica pulsante e una voce tormentata. La linea stilistica della band si muove tra intensi episodi elettrici e ballate dense e cupe che fanno da scenario a testi visionari, venati da una nera ironia. Un universo fatto di storie e personaggi che vivono nell'ombra, ai margini della città: luogo maligno dove i destini si intrecciano al fine di perdersi irrimediabilmente.
La loro musica è stata descritta come un viaggio alla fine della notte, una perfetta colonna sonora per un film di David Lynch.
A marzo 2010 hanno condiviso il palco con Mark Steiner (USA) e Henry Hugo (CH) per un tributo al compianto Rowland S. Howard. A maggio 2010 sono stati invitati per due concerti a Praga, Repubblica Ceca, da Phil Shoenfelt (UK-CZ).
Il loro disco di esordio è uscito a settembre del 2010 in edizione limitata, solo su vinile, ed è stato presentato a Londra il 30 settembre al leggendario Hope & Anchor.