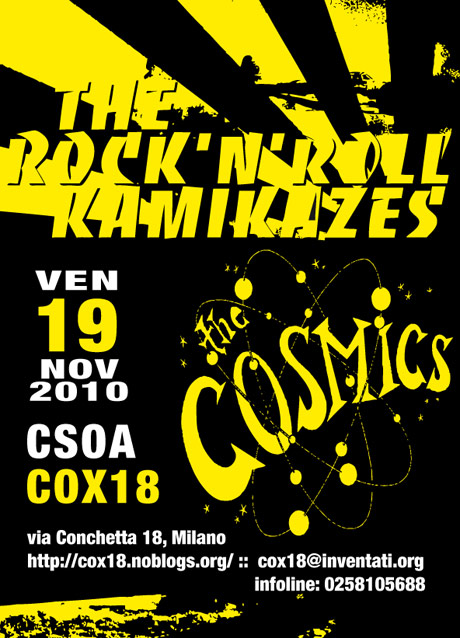 19 Novembre 2010
Concerto con
– Kamikazes
– The Cosmics
Chi sono i Rock'n'Roll Kamikazes?
Andy Kamikaze, è non solo Kamikaze, ma era il chitarrista/cantante degli "Hormonauts"! Prima di imbarcare sulla Hormo-nave che lo ha portato in giro per gli ultimi 10 anni, fu uno dei leggendari "Spamabilly Borghetti", il pornobilly trio per eccellenza che ha terrorizzato l'Italia per una buona parte degli anni 90! Ma prima ancora, suonando la sua chitarra sulle strade di Ferrara, ha incontrato Guy Kamikaze, il Samurai del Sax. Lo conoscerete di sicuro come frontman di "Guy & Gli Specialisti" e l'avrete forse, anche visto condividere palchi con elementi poco noti come Chuck Berry… Ebbene, questi due Kamikaze dalle due estremità del continente: Glasgow e Bari, si sono ritrovati recentemente e hanno deciso di suonare Rock'n'Roll.
La sezione ritmica è composta da:
Peppe Kamikaze, The Sheik of Shuffle alla batteria (Little Victor & The
Boomers, Cozze Amare, Silver Combo).
Al contrabbaffo Nico Kamikaze (Gatta Molesta, Silver Combo), baffuto romagnolo e slappatore senza pieta'.
Questi Rock'n'Roll Kamikazes fanno rock'n'roll puro- voci, chitarra, sax, batteria e contrabbasso -grintosi, divertenti, irruenti, swingati, shufflati, quattro quarti, sei ottavi, tre medie e un single malt!
The Cosmics
Progetto musicale nato tra musicisti di estrazione diversa in occasione della realizzazione di colonne sonore televisive .
Grazie ad una forte predisposizione per l'ambientazione, i Cosmics hanno collaborato ad eventi multimediali e mostre d'arte.
A seguito delle numerose richieste, i Cosmics hanno deciso di esibirsi dal vivo in occasione particolari e selezionate supportati da un light show e da un ambientazione che rimanda all'immaginario estetico del gruppo (B-Movies,Parties,Go go girls, ecc.ecc,). La musica ,oltre a vari brani autografi, trae ispirazione dalla go go music fine anni '50 dal rock'n'roll e dalle colonne sonore.