Daily Archives: 2011/05/09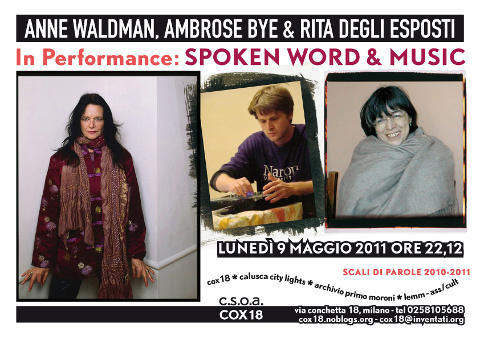 09 Maggio 2011 – 22,00

PERFOMANCE: SPOKEN WORD |+|AMP|+| MUSIC
con ANNE WALDMAN, AMBROSE BYE, RITA DEGLI ESPOSTI
Sesto appuntamento della rassegna "scali di parole", altro appuntamento fuori da circuiti commerciali e istituzionali (gallerie, musei …): la poetessa anne waldman terrà un reading accompagnata dal musicista ambrose bye e dalla poetessa e traduttrice rita degli esposti (che ha aperto la rassegna insieme a john gian e tom raworth).
"scali di parole" è una rassegna concepita tra i libri dell'archivio primo moroni ed è organizzata da: archivio primo moroni, libreria calusca city lights, c.s.o.a. cox18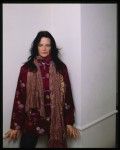 anne waldman:
dirige la "jack kerouac school of disembodied poetics" di boulder, colorado, fondata assieme ad allen ginsberg ed è stata tra i fondatori del "poetry project at st. marks' church in-the-bowery" a new york.
è autrice di più di 40 libri, tra i quali il "classico" fast speaking woman e il "monumentale" Iovis trilogy: colors in the mechanism of concealment, lungo poema antimilitarista e femminista.
compare giovanissima nel film ice di robert kramer.
è attivista contro il nucleare e contro la/le guerra/e.
ha collaborato con artisti, musicisti, coreografi e danzatori come george schneeman, elizabeth murray, richard tuttle, donna dennis, pat steir, judith malina, don cherry e steve lacy.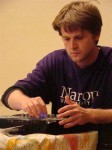 ambrose bye:
musicista cresciuto nell'ambiente della naropa university.
ritiene allen ginsberg e william burroughs tra i suoi padri spirituali.
si è formato negli stati uniti e a bali, in indonesia.
ha collaborato con thurston moore dei sonic youth e il poeta amiri baraka
http://www.myspace.com/fastspeakingmusicmyspace
http://www.youtube.com/user/fastspeakingmusic