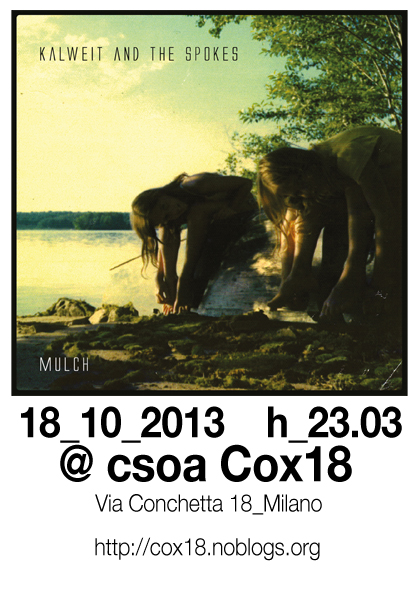 Kalweit & The Spokes presentazione nuovo disco Mulch + Kaze no Inu dj set
Kalweit & The Spokes
I Kalweit and the Spokes sono Georgeanne Kalweit (voce), Giovanni Calella (chitarra) e Mauro Sansone (batteria) che nel 2011 prende il posto di Leziero Rescigno, fondatore e produttore del primo disco dei Kalweit and the Spokes "Around the Edges" (2010, IRMA records).
"MULCH", registrato al Diabolicus Studio di Giovanni Calella a Milano e prodotto dallo stesso Giovanni, si apre così ad una linea musicale più dedita alla sperimentazione, vicino a quell'elettronica amata da Giovanni Calella, senza dimenticarsi delle sonorità Country alternative e Post Punk caratteristiche
anche di "Around the Edges".
"MULCH" nasce tra le terre natie e dalle terre natie di Georgeanne Kalweit, racconti provenienti dal suo Minnesota e dalla sua Minneapolis. Dopo oltre vent'anni vissuto in Italia, i pensieri di Georgeanne hanno scavato nei ricordi di un mondo che non esiste più. "MULCH" è anche popolato sia da personaggi reali che immaginari ed è uno sguardo (a volte ironico) alle nuove dipendenze dei giorni nostri che la società addotta per sopravvivere ai problemi e la solitudine che caratterizza l'uomo moderno.