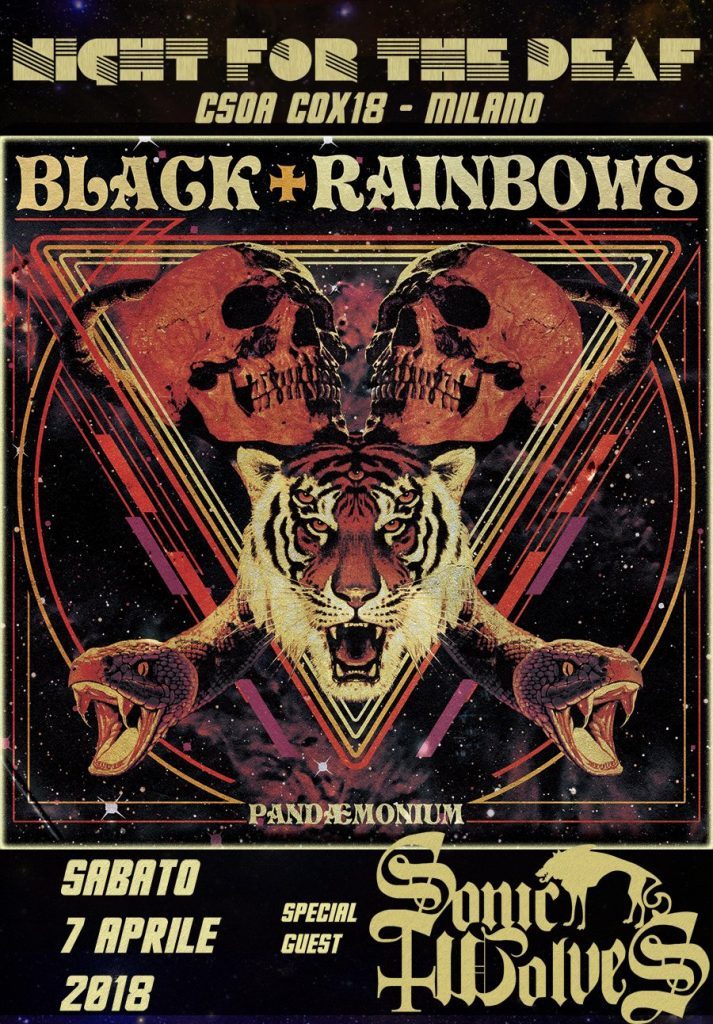 07 Aprile 2018
Night for the Deaf presenta:
Live on Stage: Black Rainbows + Sonic Wolves
Sonic Wolves
Sonic Wolves sono la nuova creatura di Vita, batterista degli Ufomammut. Suonano un selvaggio doom metal con un "tiro" da r'n'r band americana, forse merito della cantante bassista Kayt Vigil, che, prima di trasferirsi in Italia, ha suonato in leggende dell'underground USA quali Pentagram e Hounds of the Hasselvander. Alla chitarra completa la formazione Mr.Diniz, gia' con Mexican Chili Funeral Party. Al Cox presentano in anteprima il loro secondo album, in uscita per la versione in vinile con l'olandese DHU e con gli inglesi Future Noise.
Black Rainbows
Dopo 10 anni di attivita' , 6 album, 2 EP ed innumerevoli tours europei, approdano finalmente al Cox i romani Black Rainbows; presentano il nuovo fumante, durissimo LP "Pandaemonium" che esce per Heavy Psych Sounds, l'etichetta di cui il chitarrista cantante della band – Gabriele Fiori – e' fondatore ed instancabile factotum, che pubblica in vinile la creme della scena mondiale hard psichedelica (Nebula, Farflung, Lords of Altamont, Fatso Jetson, Mondo Generator, Giobia, etc).
Lo stile dei Black Rainbows e' stoner rock genuino e dinamico, ovunque dominano chitarre ultra fuzz e ottimi vocals di scuola Osborne/Garcia e suggestioni '70's.