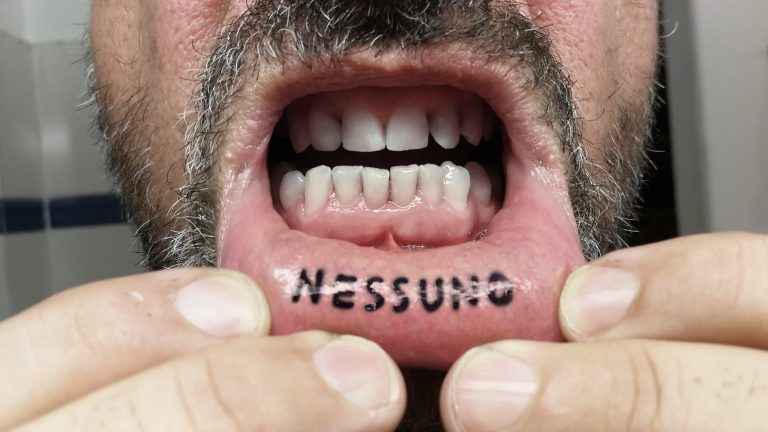 21 Dicembre 2019
Nessuno – Nobodys Indiscipline Party
DYNNO (GR/ D)
Dynno Dada is a half-a-decade years old anarcho-feminist misfit, body identity performer, based in Berlin. Daughter, mother and sister in the House of Hopelezz, Dynno is born in the dark mists of underground gay fetish club, Club Church in Amsterdam. Fucked-up, yet gorgeous, Alchemist Dada proves that high fashion can cost you a euro or even none!
For her debut in Milano, Dionisis Argyropoulos-Ioannou puts together an all-Italian, period Cabaret. Greek rooted and with an affiliation to the Mediterranal air, her live-singing fantasy finally come true, accompanied with accordion by Giulia Bertasi.
ϟϟ CRIPTA ϟϟ
MERENDE_La grotta di Nessuno/ Industria Indipendente (IT)
Merènda s. f. [lat. merĕnda, gerundivo neutro pl. di merere «meritare»: propr. «cose da meritarsi»].
La grotta di Nessuno somiglia a tutte le grotte senza appartenere a Nessuno
Palomatooth & Bunny Dakota aka Industria Indipendente vogliono offrirvi una Merenda che apra un varco spazio temporale e ci porti lontano da qui; vogliono farvi attraversare uno spazio comodo, togliervi le scarpe e accompagnavi in un luogo caldo e accogliente. Per Nessuno, Palomatooth aka Erika Z. Galli e Bunny Dakota aka Martina Ruggeri vogliono offrire una Merenda in cui il tremore del tatuaggio si unisca a quello dei beat creando un ritmo lento e costante, una marcia svestita e continua in cui restare e perdersi. Un ambiente scuro in cui inventare segni, e essere iridescenti; un sistema a due che vuole esplodere e invitare alla vicinanza e alla prossimità. Alla moltiplicazione.
KEYS:
Non avere occhi ma lunghe antenne
Brownie Lupita offre more than nails And more
Never stop trembling
Non dipendere dalla superficie del mondo
Refugium is into the darkness
Merende è un dispositivo site-specific attraverso il quale prendersi cura di noi stess*, del nostro tempo e della realtà in cui ogni volta ci troviamo ad operare. Un'occupazione temporanea dello spazio nella quale è il principio della condivisione, della gratuità e dell'offerta a modellare la pratica artistica.
ϟϟ MAIN ROOM ϟϟ
DJSET/
AMAZON PRIM (BR/ IT)
Amazon Prim (Juana Bel) è una DJ emergente che vive in Italia ma è nata a Brasilia, una città caratterizzata dalla sua diversità culturale, incrocio e sincretismo. Il suo ambiente ha influenzato direttamente il suo stile musicale, portandola ad esplorare i confini della musica club sperimentale e i ritmi della diaspora nera del sud del mondo. Ha lanciato la sua prima mixtape con Clube Tormenta, che attualmente rappresenta la fonte del materiale più eccentrico e scatenato nella scena musicale elettronica brasiliana. Da lì ha collaborato con tanti collettivi tra cui Salviatek (Uruguay), Desculonización (Messico) e Club Adriatico (Ravenna).
https://soundcloud.com/amazonprim?fbclid=IwAR0YwL5xgEla4ZDzfQbb_fZp1ugerDVIRji035M0SDwWrMPHCgA-tmjrZyg
Industria Indipendente (IT)
Erika Z. Galli e Martina Ruggeri si incontrano artisticamente nel 2005 e danno vita al progetto Industria Indipendente, collettivo di ricerca dedito alle arti performative. Con i nomi Bunny Dakota e Palomatooth creano dj set e ambienti a quattro mani, dando vita a universi immaginari aperti e da abitare insieme. Downtempo, Turkish Delight, Vodoo Beats, Sexyelectro, Techno-fluid, Queer&Dub: Bunny Dakota e Palomatooth reinventano generi e mescolano pratiche ed estetiche traducendo in suoni e performance il battito della realtà. Tracciano ogni volta mondi fittizi fatti di sud, droni, suoni macchinici, elettricità, alte maree, magia nera, beat, sensualità. Al loro interno tutt* sono invitat* a mettersi comod*, assumere identità fittizie , mascherarsi, riscoprire sé stess* nella danza scatenata o restando immobili e perdendosi.
https://www.mixcloud.com/martina-ruggeri2/
<> ALL NIGHT LONG/ ON SALE <>
NESSUNO T-SHIRT
Anna Magni & CO.PIRIGHT DISEGNINI
NOBODYS- A SCIENT FICTION STORY
Publication Nobodys Indiscipline 2019
text by Stella Succi graphic designer Giulia Polenta
NESSUNO/ benefit party for NOBODYS INDISCIPLINE an independent platform for sharing practices in the performing arts> https://nobodysbusiness.wordpress.com/
ϟϟ THKSSS FOR DA LOCANDINA/
ph e skin by Marco Mazzoni
NESSUNO è un universo co-immaginato.
NESSUNO è uno spazio in cui generare comunità e resistenze attraverso l'incontro di diverse identità, immaginari, prospettive. NESSUNO difende la diversità e la complessità di segni che questo incontro genera.
HABLO POR MI DIFERENCIA