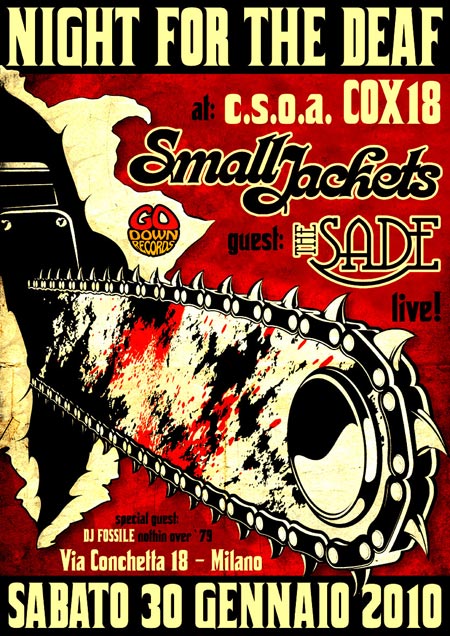 30 GENNAIO 2010 – dalle 23.00
Night For The Deaf presenta: Small Jackets + The Sade
special guest: DJ Fossile (nothin over '79)
Gli Small Jackets sono una delle migliori live band italiane in ambito (hard) rock and roll. Il loro suono prende ispirazione da quel filone che, partendo da formazioni dei
primi '70 come Humble Pie e Faces, attraversa i '90 con i Black Crowes ed arriva
ai giorni nostri abbracciando la scena street/hi-energy rock di apprezzate band come Hardcore Superstars e Hellacopters.
In Cox presentano il loro terzo album "Cheap Tequila" uscito pochi mesi fa. Apriranno la serata i The Sade, power trio di recente formazione, fautori di un
suono a metà tra detroit sound (MC5, Stooges, Sonic Rendez-Vous) e punk&roll depravato.